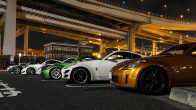 Reckless Driving Racing In Virginia
27 January 2021
Reckless Driving Racing in Virginia is punished under Virginia Code §46.2-865. That law states:
Va Code §46.2-865. Racing; penalty.
Any person who engages in a race between two or more motor vehicles on the highways in the Commonwealth or on any driveway or premises of a church, school, recreational facility, or business property open to the public in the Commonwealth shall be guilty of reckless driving unless authorized by the owner of the property or his agent. When any person is convicted of reckless driving under this section, in addition to any other penalties provided by law the driver's license of such person shall be suspended by the court for a period of not less than six months nor more than two years. In case of conviction, the court shall order the surrender of the license to the court where it shall be disposed of in accordance with the provisions of VA Code §46.2-398.
Under this law, the police officer must be able to prove that you drove in tandem with another vehicle for the purpose of engaging in a race or competition. The Merriam-Webster Dictionary (which judges will refer to during a trial) defines a "race" as "a competition between people, animals, vehicles, etc., to determine which one is the fastest." Thus, if there is no competition, there is no race. This law applies to you on a private and public road. You do not need to exceed the posted speed limit in order to be convicted of this offense.
For example, it is considered Reckless Driving Racing in Virginia if you and another vehicle each accelerate rapidly for the purpose of engaging in a competition with each other.
By Michael Huff, Esq.